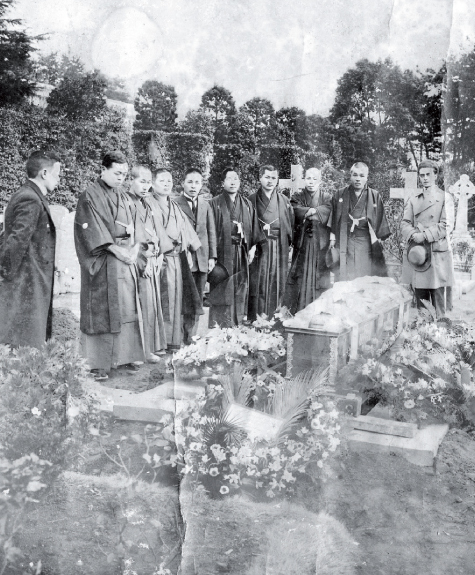 THE SPANISH FLU


World War I was now just a memory. Bartolomeo dreamed of marriage. He had left a beautiful fiancée back in Torre del Greco. Every week, she anxiously waited for news from Japan. Bartolomeo never failed to disappoint her expectations: together with the parcels of raw coral, the young man sent the furniture which he chose with great care for the house where they would live in once they had married. Sadly, fate was to prove cruel to this carefree couple who were so much in love. Bartolomeo had already decided to come back and run business in his home city. Shortly before their wedding, he was still in Kobe and fell ill. A strain of influenza – the so-called "Spanish Flu" - was to prove fatal for him. 
It was a dreadful calamity. All types of medication and famous specialists were unable to save Bartolomeo's life; after a week of agony, he died at the age of just 35 years old, without ever embracing his fiancée and beloved sisters again and, above all, without ever returning to his native Italy. Struck down by an infectious disease, Bartolomeo was not even able to return to his homeland in a coffin. 
The Italian ambassador had to break the news of his death to his family who had been waiting patiently each day for postcards and goods from Kobe. Instead, on one sad morning in 1920, a telegram arrived from Japan bearing terrible news. 
Just a few lines, written in cold bureaucratic language, explaining to his sister Raffaella and his brother-in-law Michele what had happened to the young Bartolomeo. It was a devastating blow. A few days later, a consular messenger knocked at Palomba's house : he delivered an envelope, containing a photo "recording" the funeral and the burial of the coral-dealer from Torre del Greco in Kobe cemetery. Besides the presence of Japanese soldiers, the Italian ambassador and religious dignitaries also took part in the austere military-style ceremony; none of his friends or relatives, who were so far away from him, could be present.

THE EMBARGO ON TORTOISESHELL WITH WEIGHT RESTRICTIONS


Meanwhile, a new war threatened Italy and its relations with England. Once more, the firm was forced to adapt to the circumstances of a new global conflict in order to survive the crisis. Michele continued to travel back and forth between Torre del Greco and London while Raffaella single-handedly ran the offices in Corso Avezzana (nowadays known as Via Roma), while bringing up the family which had grown considerably in the meantime: after the birth of Franz, the couple had seven more children. The youngest, Antonio, was born in 1929.
Hostilities between Italy and England deteriorated with serious consequences for business. In particular, the embargo placed on Italy hindered Michele's efforts to purchase and send goods whenever he wished. Everything had to be carefully weighed and checked. It was necessary to maintain a sufficient supply of raw material to avoid hindering the working of tortoiseshell, which had become the firm's main source of income in the meantime. Michele began to send small quantities of material wrapped in minute parcels to all the members of the large family. Every day goods arrived from London and Raffaella had to go and collect the parcels from various houses in Torre del Greco. Don Michele De Simone's wife worked unstintingly and made sure that her husband was not burdened with the anxieties that inevitably weighed down on her. To save time and meet demand, she worked until late at night selecting raw materials, arranging them in containers so they would be ready for the artisans when they arrived at the workshop early in the morning.

TORTOISESHELL, SHELLS AND MOTHER-OF-PEARL


When Bartolomeo died, the company name changed from Francesco De Simone & Figlio to Michele fu Francesco De Simone & Company. Wracked by grief, Michele and Raffaella decided never to set foot in Kobe and put the Japanese experience, together with the mortal remains of young Bartolomeo, behind them. Meanwhile the firm had achieved an international reputation and had become a reference point for many wholesalers who would visit the Torre del Greco workshops to buy precious articles of hand-carved coral.
The family business still had a lot of potential for expansion and development. Michele decided to invest in England: in 1920 he opened a sales office in London where he specialised in shells, pearls, tortoiseshell and mother-of-pearl. The artisans in Torre del Greco no longer had to concentrate solely on coral. Cameos were made from the shells and were once more destined for the American and European markets. However, the greatest profits came from working tortoiseshell (the shell of the Hawksbill turtle). Michele and Raffaella's firm soon became a reference point for the most important craftsmen in the Naples area, including Cav. Labriola, the Ricciardi brothers and Gennaro Durante. In 1924 Michele De Simone & Company took part in the Toy & Fancy Goods Fair in London, the first fair of its kind ever to be held. The company even received a mention in the "The Fancy Goods Record", a leading trade journal, as well as a report in the local "La Torre" newspaper, founded and edited by 'Commendatore' Luigi Sorrentino. Their luck seemed to be turning. Michele and Raffaella decided to build a villa in Via Cesare Battisti in Torre del Greco with no expense spared. The end result was a palatial residence with six apartments. Running water, bathrooms and the plentiful use of marble made it an extraordinarily comfortable and exclusive house for the period. Although Michele was only able to follow the work during the short intervals between his frequent trips to London and elsewhere, he still managed to have a modern kitchen with built-in hobs shipped from the United States. However, the work took far longer than had been planned and, above all, required far more money than had been estimated. In order to construct their palatial home, Michele and Raffaella De Simone eventually ended up spending 450 thousand lire – a small fortune at the time.