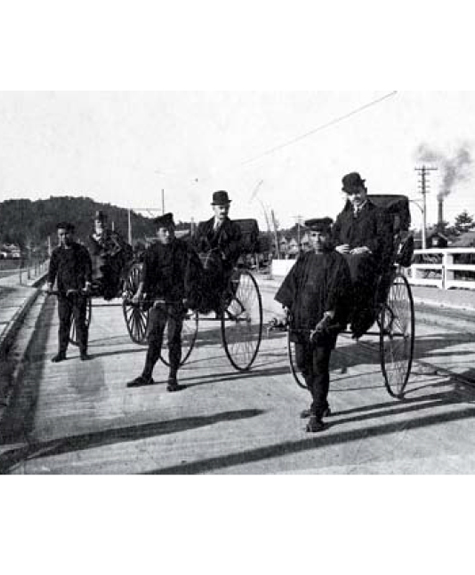 THE BROTHER BARTOLOMEO


In 1910, the clever and cultivated young heir of the Palomba family became chief buyer for Francesco De Simone & figlio. He selected and bought rough coral, in Italy and abroad, destined for the workmen, engravers and carvers of the Torre del Greco workshop. In order to ensure the growth of the firm, he decided to move to Kobe, Japan's commercial centre and a strategic place for agents who had to procure valuable material for the coral firms.


POSTCARDS

Kobe, 1st September 1910
"Dear Sisters: I received your letter and its contents. Thanks for the kind thought. I am very well but it is so hot that lard melts. I have a beautiful house, two rooms on an upper storey and two rooms on the ground floor. There are also two lumber rooms for provisions and straw and empty chests for sawdust; there is an extremely comfortable bathroom, electric light and water, all in the house. There is a kitchen and a small garden (the equivalent of three square rooms) and a beautiful veranda sealed by panes of glass. There are also two rooms for the servants. European houses are rented whole - Regards, Bartolo".

Kobe, September 10th 1910
"I don't have enough time to write a letter. This morning I received a remittance of 500 Pounds Sterling. The day before yesterday I bought 23 kg. of rough coral for 110. Today I bought 78 kg of broken chunks of dark red coral for 10 lire. I prepared 3 chests which will leave on Monday 12th. After this first coral shipment, I will be more choosy. While waiting for your news from Torre, I'm even more eager to go and spend 15 to 20 days at the sites where the coral is harvested. On Tuesday 13th I will send you the bill of lading by registered letter. I received the newspapers. Write to me as often as you can. Yours Bartolo Palomba." 

Kobe, September 20th 1910
"Dearest sisters: Yesterday I received the letter from Papa dated 30th August and the newspapers up to the 12th August. On 1st November send me a supply for 4 months or more of the following: 125 tins of small tomatoes, 30 of 'soffritto' (spicy meat sauce), 20 of peppers, 20 of tuna in oil, 10 jars of quince jam, 20 jars of aubergines, and 20 of green beans. No artichokes, no peas - I don't need them. 25 kg of assorted types of pasta, 5 whole mature Sardinian cheeses, 2 provolone cheeses and 3 or 4 'soppressate' (cured dry sausage) - I have a bit left and it's still good -, a large piece of cheese for grating, 15 litres of oil, no vinegar. Also 15 packets of paper for water, 'wischi' (whiskey), 3 flints for the lighter that I bought in Germany. Nothing else because I can find everything else I need locally. No wine, liqueurs or shoes. I can get everything here. If you can get them in the case, 6 pairs of heavy white socks. Write to me frequently. Your loving brother. Bartolo."

Kobe, 28th May1911
"Dear Papa: Be careful when handling the stuff in chest 19. Do you understand? It's a madhouse here!!! Prices are rising every day!!! Today I received a letter from De Simone in New York, telling me about the sale of 903 strings and the sum received in payment. He sent "Van Duse & Stoke Co." a selection of 1 inch coral cameos about which he will let me know immediately. He also gave quite a lot of strings to "Boyajan" including one worth $350,00 for $310,00. The cheques I sent to London haven't been cashed yet; that will take about 10 more days.
Yours affectionately, Bartolo."