Michele, Fiammetta and
Massimo De Simone
with their parents Antonio and Vera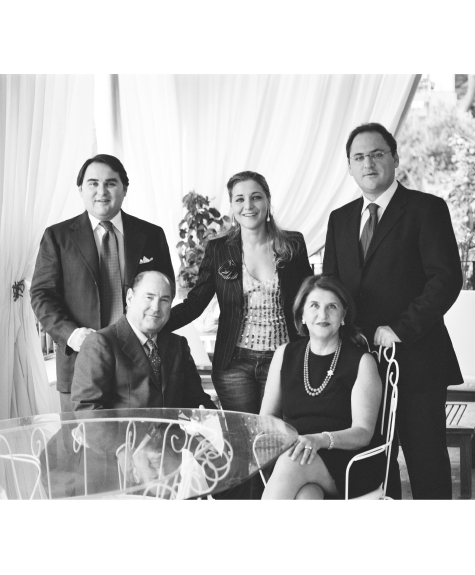 A NEW ERA


The 1990s heralded the dawn of a new era. Antonio handed over the running of the business to Michele Jr., Massimo and Fiammetta. A new company called De Simone Fratelli was founded using the latest marketing and business techniques. It began with the careful selection of hand-made goods. Today, the historic company founded by Francesco and Michele focuses on the unique character of each creation and, in particular, on the design with the family trademark. Coral, pearls, turquoise and cameos are combined with diamonds and gemstones, and set in gold using exclusive designs. Renowned for their elegance and impeccable taste, they become unique pieces of jewellery. The creations of the company based in Torre del Greco tour the world, taking part in Italian and international trade fairs and exhibitions. The innovative ideas of the latest generation of the De Simone family are designed to create the company's own distinctive jewellery. 
Faithful to its original business philosophy, the company has returned to the concept of the piece of jewellery as a precious object which is carefully handcrafted from high quality materials, preserving its value over time. The concept is marked by the creation of each unique piece. In 1997, the same spirit and philosophy led to the opening of the first De Simone brand store in Lacco Ameno on the island of Ischia. This was followed in 2005 by the opening of a second De Simone store in the prestigious Brera district of Milan. The De Simone stores are designed to create a completely new relationship with customers. One distinctive feature of the stores is the chance to create made-to-measure pieces of jewellery with customers, based upon the conviction that uniqueness is the result of combining the skills of the artisan with the customer's wishes. 
In 2011 the official acknowledgement of the company's contribution to Italian commerce was a further source of pride for the De Simone family. To mark the celebrations of the 150th anniversary of Italian unification organised at the behest of the President of the Republic, the firm became part of Register of Historic Italian Companies, set up by the Italian Chamber of Commerce. Membership of the register is granted to firms whose development has accompanied the growth of Italy and which, over time, have combined innovation, tradition and an open-minded approach to the outside world while remaining firmly rooted to the local community. Today, as in the past, the De Simone firm continues the family tradition of preserving the original atmosphere of the craft workshops in Torre del Greco. Their exclusive creations reflect the firm's skilful blend of craft traditions and contemporary design, and embody the high quality craftsmanship of Italian-made products.